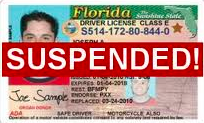 In Miami Florida, having and being able to drive a vehicle is an advantage, opportunity and privilege. However, there are numerous issues arising where your driver's license may be suspended. The suspension of your license may be a result of points in your record, overdue tickets, illegal possession of a controlled substance and/or failure to obtain the required insurance coverage.
When your license becomes revoked, you must treat the matter seriously. Typically, you receive an official letter from the DMV or the Florida Department of Motor Vehicles. There are cases when you learn license is no longer active after you've received a traffic violation.
If this happens, you may be arrested. No need to worry because in this and any other cases, we can assist you in having your driving privileges reinstated. But always keep in mind while we're still in the process of working on what's best for you, please do not drive!
After we meet and examine your case, we will guide and assist you through the complex procedures of having your license renewed. This is not a simple matter to deal with especially if you try to do this on your know.
In order to establish an effective appeal for your driver's license suspension, we have to act right away after the arrest was made. If you do this too late, we will lose the right to be able to appeal on your behalf. This is why you must work with an expert. With this in mind, the Traffic Ticket Office will help you in having you drivers license reinstated. Feel safe and confident while driving down in Miami, Florida. At the Traffic Ticket Office, we will take care of this for you.