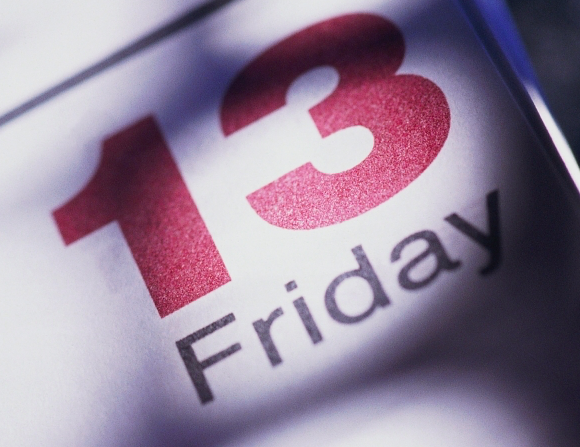 Friday the 13th
from History.com and Wikipedia.com
The History of Friday the 13th
Long considered a harbinger of bad luck, Friday the 13th has inspired a late 19th-century secret society, an early 20th-century novel, a horror film franchise and not one but two unwieldy terms—paraskavedekatriaphobia and friggatriskaidekaphobia—that describe fear of this supposedly unlucky day.
The Fear of 13
Just like walking under a ladder, crossing paths with a black cat or breaking a mirror, many people hold fast to the belief that Friday the 13th brings bad luck. Though it's uncertain exactly when this particular tradition began, negative superstitions have swirled around the number 13 for centuries.
Why is Friday the 13th Unlucky?
The superstition surrounding this day may have arisen in the Middle Ages, "originating from the story of Jesus' last supper and crucifixion" in which there were 13 individuals present in the Upper Room on the 13th of Nisan Maundy Thursday, the night before his death on Good Friday.[3][4] While there is evidence of both Friday[5] and the number 13 being considered unlucky, there is no record of the two items being referred to as especially unlucky in conjunction before the 19th century.[
Why Call the Traffic Ticket Office?
Did you get a ticket recently?  You have nothing to fear! The Traffic Ticket Office helps you resolve your traffic ticket issues. We have over 25 years experience. We handle cases dealing with all sorts of Miami traffic violations. From speeding tickets, red light violations, DUI's, suspended licenses, we can help you. We are even successful helping habitual offenders keep their licenses. Because of this, we know how to best represent your particular situation. As a result, we will clear your driver's license.
Miami's Traffic Ticket Office, also known as the Ticket Clinic on 103rd street, has a team of the most reliable Miami traffic ticket attorneys and office staff ready to assist you in defending you against your Miami speeding ticket.
The Traffic Ticket Office assists you in finding simple and affordable solutions to help you stay on the road. Additionally, we help you maintain a clean driving record. Our Miami traffic ticket attorneys have helped thousands of clients just like you. We protect you from both the financial and practical burdens Miami traffic tickets cause. Allow us to represent you. Have an experienced lawyer fight your Miami traffic ticket. This will reduce the potential of having many frustrations and hassles.
Call 305-LAW-FIRM (305-529-3476) or contact us here for immediate help with your Miami speeding tickets and other Miami traffic violations.
Remember, STOP! Don't Pay That Ticket! And very importantly, DON'T TEXT AND DRIVE! It may save your life and another's.