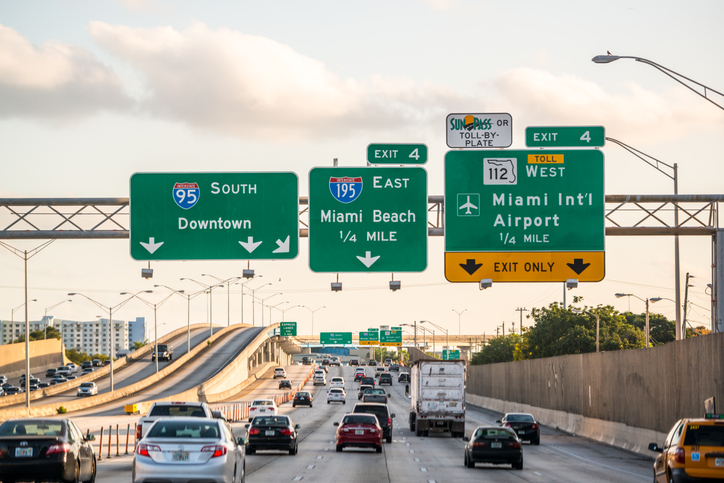 Feeling traffic trauma? Miami commutes are longer than ever for more people than ever
.
If you feel like your South Florida commute seems increasingly hellish these days, you're not alone.
Over the past decade, Miami-Dade, Broward, and Palm Beach counties have seen a whopping increase of almost 29 percent in the share of commuters who travel at least 90 minutes to get to work. That is one of the largest increases in America among big cities.
By comparison, Atlanta saw just a 14 percent increase between 2005 and 2016, while New York jumped only 15 percent.
Miami Traffic Commute
The data, compiled by ApartmentList.com, brings South Florida in line with the national share of Americans now making "supercommutes." As of 2016, 2.7 percent of South Florida commuters were traveling at least 90 minutes to get to work. That's the same as the nation as a whole. Other fast-growing regions now have even larger shares: 6.7 percent of New Yorkers are now supercommuters, while 4.6 percent of people living in and around Washington D.C. are making daily megahauls.
Why Call the Traffic Ticket Office?
Unfortunately, long traffic commutes also cause drivers to get traffic tickets.  The Traffic Ticket Office helps you resolve your traffic ticket issues. We have over 25 years experience. We handle cases dealing with all sorts of Miami traffic violations. From speeding tickets, red light violations, DUI's, suspended licenses, we can help you. We are even successful helping habitual offenders keep their licenses. Because of this, we know how to best represent your particular situation. As a result, we will clear your driver's license.
Miami's Traffic Ticket Office, also known as the Ticket Clinic on 103rd street, has a team of the most reliable Miami traffic ticket attorneys and office staff ready to assist you in defending you against your Miami speeding ticket.
The Traffic Ticket Office assists you in finding simple and affordable solutions to help you stay on the road. Additionally, we help you maintain a clean driving record. Our Miami traffic ticket attorneys have helped thousands of clients just like you. We protect you from both the financial and practical burdens Miami traffic tickets cause. Allow us to represent you. Have an experienced lawyer fight your Miami traffic ticket. This will reduce the potential of having many frustrations and hassles.
Call 305-LAW-FIRM (305-529-3476) or contact us here for immediate help with your Miami speeding tickets and other Miami traffic violations.
Remember, STOP! Don't Pay That Ticket!