Why should we fight any traffic ticket in Florida?
The DMV (Department of Motor Vehicles) maintains a database of motorists listing their convicted traffic violations. Upon being ticketed a motorist is given the option to mail into the local court or the court for the jurisdiction in which the violation has happened. The driver has 3 options within a certain time frame: a plea of guilty, not guilty or nolo contendere. This allowance time is usually 10 to 15 days, although courts generally provide leniency in this regard.
According to the Florida Department of Highway Safety and Motor Vehicles, an individual's driver's license will be suspended after he/she receives 12 points or more within a certain time period and may be suspended for unpaid Florida traffic tickets … Credits: Attorney Guy Seligman Says Traffic Accident Involvement Could Result In … – EIN News (press release)
Additionally, the motorist can request a mitigation hearing, which acknowledges that the driver is guilty of a moving violation, but is requesting a hearing with a judge to reduce the fines associated with the ticket. To find more about consequences of traffic tickets browse our traffic ticket blog.
Talking with a Miami traffic ticket lawyer could help you avoid disadvantages because of not knowing specific facts or even common rules that may get you out of the ticket. Ignoring Florida traffic tickets or accumulating too many demerit points in your record can lead to big trouble (suspended driver's license). Also if you don't pay traffic tickets, your Florida driver's license can be suspended. Even if you do pay your tickets, but if your driving record has 12 or more points on your license, your license can be suspended as well.
Do you tend to pay every traffic ticket you get? Lets check a few scenarios here: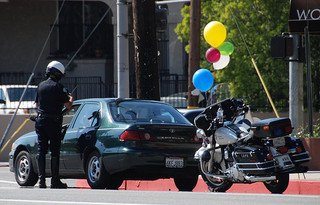 Image by Chris Yarzab via Flickr
"I know it's not very often you see a speeding ticket before the Court of Appeal," Bussey told The Telegram Friday, "but I'm not going to plead guilty to something I didn't do." The Crown attorney's office said Friday a decision hasn't been made .. Credits: Lawyer fights speeding ticket — big time – The Telegram
To receive a traffic ticket doesn't automatically mean that you deserve it, but the worst case I ever heard of read below:
In fact, Weyker had never gotten so much as a speeding ticket until the night she crossed paths with Milwaukee County Deputy Sheriff Joseph Quiles. It was February 20th, 2013, and Deputy Quiles was working the night shift on patrol at General Mitchell … Credits: Sober driver arrested for OWI when deputy crashes into her car – fox6now.com
Always fight your traffic tickets. They may come back to you any time in the future:
He says old traffic tickets coming back from the dead is not just an issue in Lackawanna. Boyd says it happens all over the state and there is no time limit to collect the fines. The Williamsville lawyer agrees, proving a zombie ticket is wrong can be … Credits: DMV hitting drivers with "zombie" traffic citations – WIVB
Increasing revenue seems to be one of the largest motivators in ticket fine decisions. Has this anything to do with safety or traffic flow?
Fung has budgeted a substantial increase in revenue from fines for illegal parking and traffic violations for fiscal 2015. Most of the parking fines, officials say, are attributable to illegal overnight parking. … Union lawyer Joseph J. Rodio said at … Credits: Why doesn't Cranston order police to issue the $50 tickets? – The Providence Journal
The essential lesson to learn: For any traffic citation see your Miami traffic ticket lawyer and fight your ticket. Call us at 305-LAW-Firm.