Traffic stop – Wikipedia, the free encyclopedia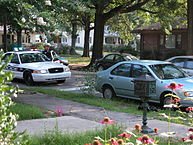 Recent Traffic Tickets in the News
An unexpected successful campaign at highly visible checkpoints was conducted by Lancaster County Sheriff's Office. It was a campaign to increase safety awareness and use of seat belts and child restraints, but out of 33 traffic tickets issued actually only 1 was for a seat belt. You can read all of it here:
 Traffic checkpoints result in five arrests, 33 tickets
Lincoln Journal Star, on Thu, 27 Nov 2014 14:07:28 -0800
A set of high visibility safety checkpoints conducted Wednesday and early Thursday by the Lancaster County Sheriff's Office resulted in five arrests, 33 traffic tickets and 107 warnings. According to a release from the sheriff's office, 470 drivers …
You have seen the MisterEpicMann How to Get Out of a Traffic Ticket, this time I like to post one of their latest fun videos:
Back to topic, next one got his lesson in Miami where the officer was about to dismiss the traffic ticket but finally issued it, read why and how it happened:
Nineteen traffic tickets in 22 years seems a lot
The News-Press, on Thu, 27 Nov 2014 15:03:45 -0800
My last traffic ticket was in May, 1959, in North Carolina. I remember it quite well. We were on a stretch of beautiful four-lane highway, quite uncommon for the time, and were rolling from hilltop to hilltop. My parents and I were driving to …
All of us probably think Florida is the worst state in terms of speeding tickets, but following news teach us better:
The worst state for a speeding ticket? N.J., naturally. Here's why.
NJ.com, on Wed, 26 Nov 2014 08:24:54 -0800
New Jersey is the worst state to get a speeding ticket in, according to a report on Popular Mechanics.com, beating neighboring New York, Massachusetts, California and Virginia, which made the magazine's top five. What earns New Jersey the top spot over …
What do you say now? Florida isn't even in the top five! However, the consequences of a speeding ticket can be here as high as anywhere in the states, better contact us to fight it. We are just a call away at 305-LAW-FIRM or contact us.